Bluegrass Tennis Association
Registration for Tennis & Swim (Full Day) and Tennis Only (Half Day) is OPEN!
Introduction
The Bluegrass Tennis Association is a non-profit United States Tennis Association sponsored Community Tennis Association that was founded in 2001. Its goals include the promotion of tennis in Central Kentucky through adult and junior programs for all ability levels. It works with current tennis programs to help expand tennis participation and helps to develop new tennis programs with interested organizations.
Bluegrass Tennis Association (BTA) is partnering with Lexington Parks & Recreation to offer a Tennis & Swim Camp, Tennis Clinics and Tennis Leagues for junior tennis players ages 6 – 14.
Have Fun! Be Active! Make Friends!
Our Mission is to provide youth with opportunities to strengthen our community by teaching tennis foundational skills and how the sport of tennis can help build character and confidence.
In addition to improving tennis foundation skills, participants will also develop:
• Health/wellness
• Social/emotional skills
• Teamwork
• Problem-solving
• Decision-making
Lessons are designed to engage children in meaningful and fun tennis activities that translate both on and off the tennis court.
Clinics and League Registration and Information will be available May 1, 2023. Please check back on that date for more information.
BTA Tennis and Swim Camp at Shillito (Full Day)
$175* per Week for ages 6-14
• Camp hours are 9am-4pm with tentative schedule as follows:
• 8:30am-9am: Drop off at the Shillito Tennis Court Fieldhouse
• 9am-12pm: Tennis (Bring sunscreen, water and racquet if you have one)
• 12pm-1pm: Lunch (Attendees should provide their own lunch & drinks)
• 1pm-3:30pm: Swimming at Shilito Pool (Bring Towel and Sunscreen)
• 4pm: Parent Pick Up at the Shilito Tennis Court Fieldhouse
BTA Half Day Tennis Camp (Half Day)
$90** per Week ages 6-14
Camp hours 9am-12pm with tentative schedule as follows:
• 8:30-9am: Drop off at the Shillito Tennis Court Fieldhouse
• 9am-12pm: Tennis Skills, Games etc.
*Scholarships are available. Please email Christy Herring at playtennis@rocketmail.com before the registration window opens for more information.
Weeks Offered:
• June 5th - 9th
• June 12th - 16th
• June 20th - 23rd (Cost = $140 for full day and $72 for half day this week. No camp on June 19th in observance of Juneteenth)
• June 26th - 30th
• July 10th - 14th
• July 17th - 21st
• July 24th - 28th
Stay Active Videos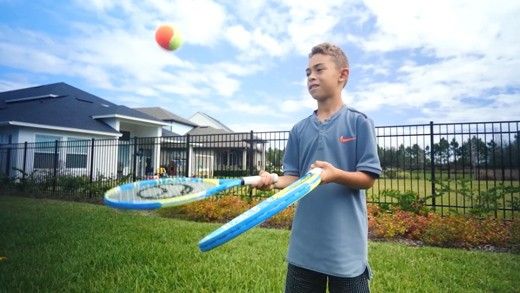 Try this activity at home or on the court to work on hand-eye coordination and control. To make it more challenging, try spreading your arms out wider or letting the ball bounce higher. Try to see how many you can get in 30 seconds.
No court to play on at home? No problem! Make your own net at home using regular items from around the house. Get creative, but make sure to ask for permission from your parent or guardian before using!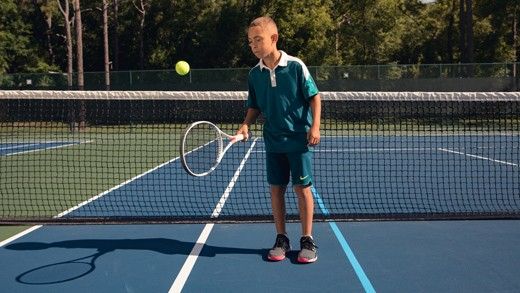 Edgies works on your grips, specifically a continental grip. Using your racquet with a continental grip, try and see how many times you can hit the ball using the outer edge of your racquet. You got this!
---
Our Partner