Merchant Centre Court Tennis Facility
KWC Winter Tennis Classic I - Jan. 14-16, 2022
Notice: Deadline to enter will be Wednesday, January 12, 2022, 9:00 p.m. Events: Open (4.5 or above), A (4.0), B (3.5), & C (3.0 or below), M/W Doubles, Mixed Doubles, Singles Singles All Divisions Friday, 6 p.m. – 12 a.m. Doubles All Divisions Saturday, 2 p.m. – 11 p.m. Finals All Divisions Sunday, 8 a.m. – 12 p.m.
Prizes to winners & finalists in all events
Tournament Director: Diana Hunter: (270) 903-0176, dghunter@kwc.edu
Host Site: Merchant Centre Court, 2965 Bittel Road, Owensboro, KY 42301
Default Time: 15 minutes enforced
Format: Best of 2 sets, regular scoring. Ten-point tie break in third set. PLEASE NOTE: IF YOU HAVE SEVERAL TEAMS, MAY HAVE TO PLAY SOME 8 GAME PRO SETS IN SINGLES AND IN DOUBLES
Balls: Furnished for Finals only. Prior to matches...both teams are to have a can of new balls. Winner takes unopened can.
Fees: $50 for doubles team ($25 per person). Singles ($30 per person) Make checks Payable to Kentucky Wesleyan College Tennis and mail check and entry form to: Diana Hunter, 3000 Frederica Street, Owensboro, KY, 42301. Entry form may be emailed, texted or pay at tournament.
About us
Merchant Centre Court is a 6-court indoor tennis facility offering tennis and pickleball play, instruction and clinics for all ages.
Stay Active Videos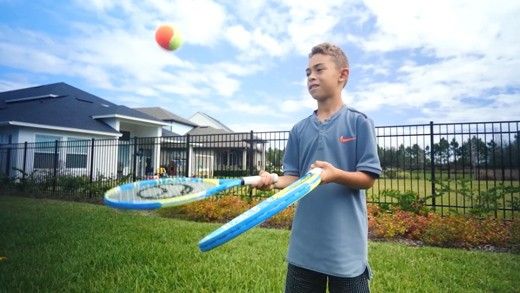 Try this activity at home or on the court to work on hand-eye coordination and control. To make it more challenging, try spreading your arms out wider or letting the ball bounce higher. Try to see how many you can get in 30 seconds.
No court to play on at home? No problem! Make your own net at home using regular items from around the house. Get creative, but make sure to ask for permission from your parent or guardian before using!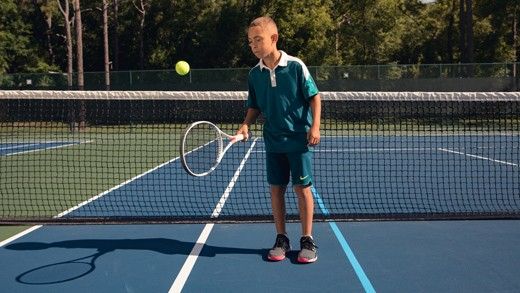 Edgies works on your grips, specifically a continental grip. Using your racquet with a continental grip, try and see how many times you can hit the ball using the outer edge of your racquet. You got this!
---